Infos zum Lauf
English Info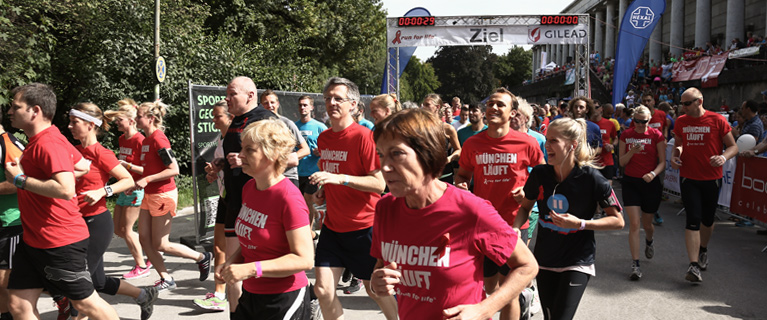 Show your support for HIV prevention
Since 2001 this fundraiser event takes place every second Sunday in September. About 1500 people participate and show their support for HIV prevention. The run starts at 2 p.m. with the 10-km-track, and a few minutes later with the 5,8km track. It is one of the most beautiful runs, that Munich has to offer: through the Englischer Garten, a huge, beautiful and historic park, right in the heart of Munich. The event starts at 12 p.m. with check-in, music, food and some entertainment.
The registration fee is 18,- Euro for online registration and 20,- Euro for on-site-registration. It includes a free Run for Life t-shirt! Your money goes entirely to Münchner Aids-Hilfe.
Enjoy the common cause and solidarity!
The Run for Life was launched as a charity event to raise awareness of the topic of HIV/AIDS and to support the work of the Munich Aids Helpdesk. The initiator was Thomas Michel from the gay and lesbian sports club Team München, who brought the idea from the USA to the Bavarian state capital. By the way, until today Team Munich is a cooperation partner of the Run for Life.
The aim of the race was and is neither the top sporting performance nor the fight against the clock. Here is the togetherness, the fun of the common cause and solidarity with people with HIV in the center. Over the years, the Run for Life has steadily gained in support and sponsors. Even if he can not compete with the very big runs: with its showcases, raffles and the the heartwarming "Run for Kids" it surely is the most charming!
Münchner Aids-Hilfe: Help for all who turn to us
The Münchner Aids-Hilfe e.V. has been founded as the first regional Aids helpdesk in January 1984 as a non-profit organisation. The past 35 years it has developed from a gay support group to a professional and interest association, which found its indispensable place in the Munich social and health care. The challenge Aids has changed, so our range of tasks have changed too, to a comprehensive infrastructure of volunteer and full-time work. Almost 150 volunteers and more than 60 full-time employees, supported by more than 450 members, offer assistance in our building in the centre of Munich, ranging from information and advice on care and support to housing and employment. It is part of our mission to provide help to all who turn to us, but to focus our efforts actively on people with HIV/Aids, gays, drug users and migrants. In these areas we work with these target groups in a very specific and structural way.
Questions? Talk to us